Today we are breaking out our ultimate guide for The best Clarins products, choosing and talking about the product itself and conclude what works best for your needs.
Those statements are coming from a person who sells it, but at the same time, who purchases them as well. So here are our best Clarins products:
Extra Comfort Toning Lotion:
I want to start with the toner that I have, and I also have been using recently. Clarins extra comfort toning lotion with aloe vera is alcohol-free. Also, it is good for dry and sensitive skin. This particular toner is my favorite one from there line, next to all the toners that I have tried.
It's good for dry skin, and sensitive as well.
Clarins toner helps to calm down, soothes, and comforts the skin as well. it is super hydrating. Unfortunately, if you're no fan of fragranced products in skincare, I wouldn't necessarily recommend it. However, if you don't mind the smell, I would highly and strongly recommend it.
Water Comfort Cleanser with Peach:
On the other hand, that that goes along with the toner, I want to talk about the water comfort one-step facial cleanser.
It's a water cleanser from Clarins that is super gentle I have ever come across with. I have always used it on my customers to clean if they do have light makeup. And they always compliment the smell as well because it is refreshing. It smells like a peach so I would highly recommend for you to use it in the morning too. If you have oily skin, to clean the excess sebum from your skin, Clarins water comfort cleanser is one of the most excellent options for you.
Clarins is a botanical brand, and everything they make is made from plant extracts.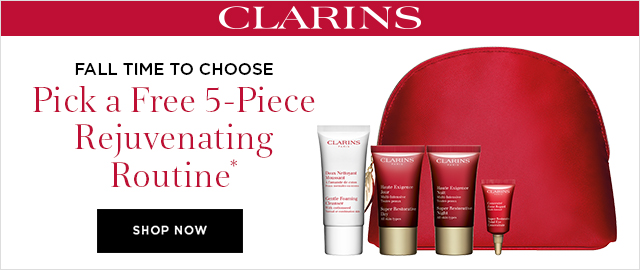 One Step Exfoliating Cleanser with Orange:
This is a one-step gentle exfoliating cleanser that has an orange and peach extract.
I also love how it really cleanses my skin, but at the same time, it exfoliates it well as well. Since I do have dry skin, I have to exfoliate my skin often. I always recommend people to try this one.
[adace-ad id="1226″]
Eau Des Jardins Body Cream:
Eau Des Jardins Body Cream is a smoothing body cream from Clarins. If you didn't know that they do have a fragrance and it's called: Eau Des Jardins as well. And this is a body cream version of that fragrance.
It is very fresh, clean, refreshing, uplifting and it makes you think about summer. If you're looking for a nice body cream that has a little bit of fragrance but at the same time moisturizes your body, give this one a try.
Body Fit:
Body Fit is one of the new releases that they have come up with. It is designed for your cellulite. If you do suffer from the cottage cheese texture of your skin, this is the expert for your problem.
The thing is you have to use it after you exercise and after you take a shower. I like to use it after I do my yoga and take a shower. And do use this one only on my legs because I do have a little bit of cellulite only on my thighs.
The very first thing that you can notice when you open Body Fit is the smell of mint or camphor. Also, when you use it on your skin while your skin becomes damp, you're going to notice that your skin starts to tingle. You will instantly feel that it was doing something on your skin.

Treatment Body Oil:
Now let's move to the famous body treatment oil from Clarins. This product is the very first product that Clarins brand has developed, and they have never changed. So many products go through the reformulation process that they work on it several times. But this product is so good they never change. Treatment Body Oil was created almost 50 or 60 years ago. It is going to strengthen, and also it's going to contour your body as well. It's all pure plant extracts a hundred percent. No synthetic products are mixed in this oil. So if you're looking for something that is pure and total botanical, this is the bomb.
Clarins Men / Shampoo:
Let's talk about Clarins man line. My husband uses and really enjoys its shampoo and shower gel. It's designed for your hair but at the same time for your body as well. It smells incredibly clean. I love it!
It smells kind of masculine, but it's still very fresh, and my husband really enjoys using this.
Clarins Men/ Revitalizing Gel:
Clarins Men/ Revitalizing Gel fights dullness, but at the same time, it tones as well. My husband wears this all the time, and I have truly seen the difference as well. When he shaves, his skin gets a lot of fresh.
True Radiance Foundation:
True radiance foundation from Clarins is the love of my life. There is nothing that I have tried; it comes close to it. It is super hydrating if you do have dry skin you are going to love this.
True Radiance Foundation has SPF 15. However, their SPF is a titanium dioxide, known for the best sunscreens you can find. I loved I love it better than Chanel than any other high-end foundations that I have ever tried.
When I wear the True Radiance Foundation, my skin always looks healthy. It is the second bottle that I have from this line.
[adace-ad id="1003″]
Eye Contour Gel:
Eye contour gel is designed for puffiness, but at the same time for your dark circles. This is the eye cream that I have enjoyed the most from Clarins. I tried many eye creams, but this is the one that actually worked. It hydrates my eyes, but at the same time, it just helps with the puffiness as well. It's because of the cooling consistency of the product. I personally use it about once a day now because my eyes don't feel as dry as it used to be.
Multi-Active Yeux Eye Cream:
This is a multi-active eye cream that instantly revives your eyes, but at the same time, it targets your fine lines. Designed for women in their 30s. Multi-active is the line that you actually want to go for from Clarins because that's made for a bit kind of age group. This eye cream comes with the metal tip that is cooling. It's called a surgical metal tip, and it always stays cold. So you get a little bit of the product under your eyes, you squeeze the tube and then use it under your eyes. When the product penetrates your skin, it starts cooling to tone down your puffiness.
Super Restorative Total Eye concentrate:
The third eye cream that I have, which is the most expensive one from Clarins line. Super Restorative Total Eye concentrate is packaged in an airtight container. It is a design for like a bit more mature or slowly maturing skin. if you're in your 50s or slowly approaching to your 50s, this is the line that you want to go for. It helps with your wrinkles if you do have dark spots or age spots under your eyes. At the same time, the consistency of this product is very thick. However, as soon as you make the product you know between your fingers; you're going to notice that it's going to melt like butter. And then you do apply it with the pressing motion under your eyes.
Energy Booster:
The energy booster from Clarins boosts the benefits of the moisturizer of your serum. You can mix it with your body products as well because it boosts the benefits of your skincare product.
The energy booster is recommended to use it in the morning when you wake up when your skin looks dull.
I love this product, and I didn't see any negative reaction from this product.
Double Serum:
Let's talk about this double serum. This is an iconic product. I love it!
If I had to choose one product, this would be the one that I have enjoyed the most. So Double Serum from Clarins has two different types of serums packed in one bottle, and it has 21 plant extracts, and you get it on the hand. The consistency comes out in two different textures; one looks like oil, and one looks like water. When you mix, it activates all the benefits, so it is good for your wrinkles. It helps with your fine lines; it helps with the dehydration. It does the job really well. I absolutely adore this product!
[adace-ad id="1004″]
Moisture Rich Body Lotion:
The Clarins Moisture-Rich body lotion is infused with the shea butter. And it has different types of plant extracts as well. On the side but the main extract is the shea butter, and in the whole tube you get about 200ML. For your body, of course, you need a bit more product. If I don't want to use my body oil, I always go for this one as a regular moisturizer to my body. I love its smell!
Exfoliating Body Scrub:
Moving on to exfoliating body scrub for smooth skin from Clarins with bamboo powder. This is one of the best skin smoothing exfoliating scrubs, but the only thing is you have to be careful when you use it. So don't get it around your eyes because it may burn your eyes. It has some ingredients mixed to it that can be a little bit too harsh on your eyes. However, you can use it on your face if you want a deep, deep, deep exfoliation. When it comes to smoothing and also softening your skin, this is the bomb.
SPF 50 Milky Lotion Sunscreen:
So one product that I have for our body is this sunscreen. It is your broad-spectrum SPF 50-plus Sunscreen Care Milk Lotion spray. It is hydrating but at the same time anti-aging as well. This sunscreen sprays lotion it's not like a regular squeezed lotion, but it sprays it on your body. And I love the packaging too. But other than that the product is moisturizing, you know dry skin people are going to love this.
Since it is a milk spray, it has a consistency of milk, but at the same time, the density of the product is thick enough to stay on your body. It doesn't drip like milk this is a little bit heavy sunscreen, so you do want to use it when you go to sunny areas. If you're looking for a nice sunscreen for your body that is anti-aging, that is moisturizing.